My WFW would focus on John 3:16 express in different languages which connect us all in one whole big circle, not withstanding, race, religion, color,
age, status or belief.
For all of us out there.
JOHN 3:16 says:
"For God so loved the world that he gave his only Son, so that everyone who believes in him will not perish but have eternal life."
John 3:16 - French
Car Dieu a tant aimé le monde qu'il a donné son Fils unique, afin que quiconque croit en lui ne périsse point, mais qu'il ait la vie éternelle.
John 3:16 - Spanish
Porque tanto amó Dios al mundo, que dio a su Hijo unigénito, para que todo el que cree en él no se pierda, sino que tenga vida eterna.
John 3:16 - Latin
Sic enim dilexit Deus mundum ut Filium suum unigenitum daret ut omnis qui credit in eum non pereat sed habeat vitam aeternam.
John 3:16 - German
Denn so hat Gott die Welt geliebt, daß er seinen eingeborenen Sohn gab, damit jeder, der an ihn glaubt, nicht verloren gehe, sondern ewiges Leben habe.
John 3:16 - Chinese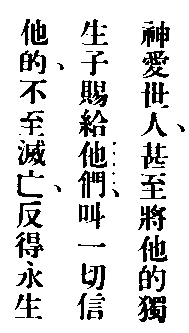 John 3:16 - Japanese
Juan 3:16 - Philippines
Ito ay sapagkat sa ganitong paraan inibig ng Diyos ang sanlibutan kaya ipinagkaloob niya ang kaniyang bugtong na Anak upang ang sinumang sumampalataya sa kaniya ay hindi mapahamak kundi magkaroon ng buhay na walang hanggan.
In any translation or any language, the message from God is simple and clear. May you discover God's boundless love for your life today!