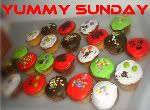 Haystacks!
Ingredients
1/2 kilo well-cooked red beans
1 pc. red onions or yellow onions
4 pcs. medium size chopped tomatoes
a dash of powdered garlic
salt to taste
soyanaise or soya base all purpose cream
asian dressing
shredded cheese ( vegetarian if you want a healthy recipe)
1 medium size corn chips or your choice of chips (chili, cheese, or what)
Cook red beans very well. Drain. Mixed all ingredients thoroughly. Topped with choice chips. Chill for 30 minutes. Voila, nutritious beannie goodness, easy to prepare and delicious! Try it now!
s